Balthasar Burkhard
Born in 1944 in Berne (CH)
Died in 2010 in Berne (CH)
Les Veines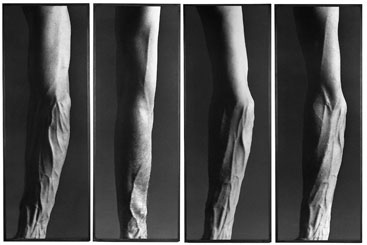 1989
Black and white photograph, gelatin-silver print
179 x 65 cm chacune
Year of Purchase: 1991

Burkhard's Les Veines (Veins), multiplied, and divided in space – huge arms turned into human trunks -, are launched independently, to the borderline between landscape and sculpture. Enlarged to the size of young trees, with neither extremities nor surroundings, nor depth, these bits (of the body) are presented like epidermises bathed in light, 'sensitive surfaces' which externalize their organic qualities and the predominance of their details, with all the precision made possible by photography. So, without any further material links with the body represented, these arms streaked with veins display their verticality and their appearance of protective roots.
The artist uses frontality, sameness, the serial rhythm here corresponding to the four sides of the volume splayed, the precise balance between frame and subject, the physical presence of the void – monochrome open walls interspersed between the photographs – in order to disrupt any overall recognition of the form which has become an abstract totality, a pure visual unity of the picture. These arms, which are identical yet different, not fragments but displaced bits of reality incorporated on the boundary of repetition, depict the impossibility of total perception and thus call to mind the ubiquity of a crises involving the subject, and thereby representation, which ran right through the 20th century.
Like Bill Brandt, Burkhardt photographs details of animals, plants and bodies…, usually in close-up, out of context, with neither volume nor age, underlined by the image, merging with its visual qualities. However, with a keen eye on the spatial nature of the object, its presentation heightened by the enlargement and fragmentation of the subject photographed, he saturates space, making any withdrawal from it impossible. He thus obliges the viewer to encounter the intimacy of the subject, and to move about so as to try out different viewpoints, perceive the other contemplated within movement and time, and thus grasp the sense of his own body. This sensual dialogue caused by the proximity of the skin and the touch of things excites the imagination and sensual desire, and through effects of juxtaposition, isolation, and distance caused by processes of relieving the images of their sense of reality, expresses the similarity of what is living, the essence of natural forms, and their organic unity.
Maïté Vissault