Hito Steyerl
Born in 1966 in Munich (DE). Lives and works in Berlin (DE)
November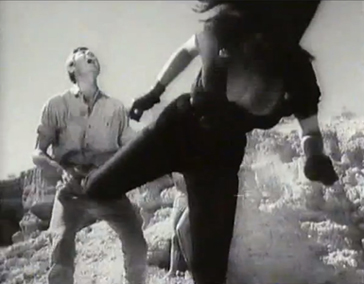 2004
SD video, color, sound
durée: 25'
Year of Purchase: 2010

The films by Hito Steyerl—a German artist as well as film-maker and theorist—combine political enquiry into immigration and globalization issues with feminism and history. These subjects intersect and take on the form of documentaries tinged with fiction―unless fiction itself has not become a document.
Hito Steyerl admits to having been influenced by such artists and film-makers as Harun Farocki and Werner Rainer Fassbinder, but her video November (2004) could easily stand next to Chris Marker's films and the political and cinematographic theories developed by Jacques Rancière.
A catchy pop-song, traditional Asian music, or a country-music tune; the artist's voice off-screen, the noise of a helicopter, or a crowd protesting in the street―the soundtrack of Hito Steyerl's November is a fragmentary reflection of the formal and conceptual structure of the film. The montage is spliced with archival images both historic and personal, and extracts from films and sounds of diverse origins.
Narratives overlap and words get in the way of images. Hito Steyerl tells us the story of her childhood friend Andrea Wolf, pseudonym Ronahi, who joined the Kurdish resistance against the Turkish state and died in 1998 for the cause she defended. After her death, she became a symbol for resistance and total engagement―the face of a martyr killed by oppression. Her portrait became an iconic image among the Kurds and has been featured on posters and brandished in demonstrations.
The circulation of images in political, social, and media spheres allows for the spreading of information and the preservation of memory, but it may also bring about ideological and community rule-breaking and manipulation. In November, images are referenced and anchored in the history of cinema, but dehierarchized to the point of neutralization. Andrea Wolf fights like a martial artist and mounts her motorcycle in the middle of the desert like a sheriff of the Far West mounting a horse: fiction with raw esthetic filmed by the artist. Andrea Wolf appears on the TV and speaks into a journalist's microphone about the Kurdish cause: reality broadcast, recorded, then filmed by the artist. Facts and fiction blur our reading of the one and the other, and Hito Steyerl adds an self-reflexive dimension to the whole when she appears on the screen, swept up in the demise of her own narrative but also when we, the viewers of November, can no longer see anything but the projector and its blinding light. November: a sober title like a muffled echo of the loaded past of the month of October and its Russian revolutions. Dark months during which nameless men and women made and unmade political news. History was written, and is still written, made of such phantasm and amnesia.
Marie Frampier