Edith Dekyndt
Born in 1960 in Ypres (BE). Lives and works in Tournai (BE)
One second of silence (Part 1, New York)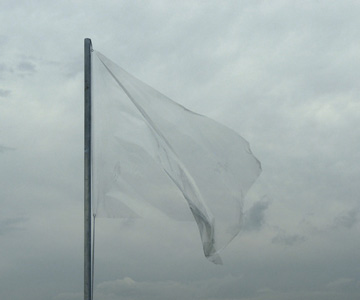 2008
Colour video, no sound
durée : 18'29''
Year of Purchase: 2008

In the world of perceptions revealed by Edith Dekyndt, everything leads us to believe in the sovereign rule of silence conducive to reflection. While daily life hardly ever affords us any silence, the transparent flag, One second of silence (Part 01, New York), (2008), floats in the air, letting its surface merge with the surrounding sky as if it were its emblem, and offers a metaphor for a "loud silence." Whipped by muted winds, the flag undulates with poetic persuasiveness like the rolling waves, and seems to turn liquid.
Hung on top of a New York building, the translucent banner echoes a desire characteristic of the artist's approach. Its label, "Universal Research of Subjectivity," created in February 2000 in reference to an artistic expedition to the expanses of Northern Canada, best translates the inspiration behind this astonishing poetic saga.
Like the saying which expresses a certain philosophy of life – "less is more" – One second of silence is a banner of celestial unity. Encapsulating the identity of a planetary nation, its transparency pleads for an identity that would not be invested with colors or symbols, but that would function as a veduta, a window, a vanishing point which draws one's attention to the beyond. One second of silence counters particularisms and proposes a natural environment which would bring humans back to an undifferentiated state. From an inner, subjective vision to a global vision of the world, the work affirms its capacity to raise discreetly the question of adequacy of the individual and the society. Tinged with a falsely ingenuous civic coloration, Edith Dekyndt's contemplation functions as a moment of salutary respiration that enables reflection. The work evokes one of the precepts of positive universality of the artist's approach, namely that there is only a small step separating the individual and the world. At a deeper level, however, the title also brings to mind minutes of silence observed in the time of mourning which, reduced to a single second, poignantly express the hypocrisy of the world which would rather pray than prevent.
Cécilia Bezzan