Évariste Richer
Born in 1969 in Montpellier (FR). lives and works in Paris (FR).

Le Rayon vert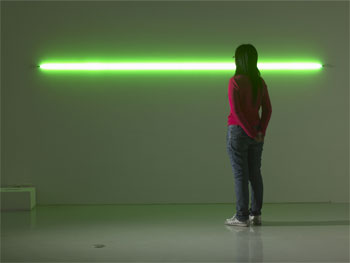 2005
Neon, transformer, programmer and calendar.
315 cm de long, 1 cm de diamètre
Year of Purchase: 2006

At first glance this work could be seen as a tribute to Minimalist Art – if taken only as a cold formal reference, that is, and unless you're lucky enough to actually witness the green ray of the title, with its evocation of that strip of colour that sometimes leaves its fleeting trace between sea and sky. Every day this long neon tube, set at eye level like a horizon line, lights up momentarily at the exact instant of sunset, as calculated in universal time by the Longitudes Bureau at the Paris Observatory and applied according to the geographical location of the exhibition venue. Thus the work replays an event whose rarity has made it an object of fascination and superstition in the same way as the aurora borealis and shooting stars; an event whose mystery has survived its explanation by scientists as simple refraction of light passing over water. The Rayon vert (Green Ray) points up the artist's interest in physical phenomena, be they optical, meteorological magnetic, or whatever. As in his daguerreotypes of clouds, Evariste Richer seems to be out to catch the ephemeral and the impalpable – while maybe running the risk of objectivising them. A neon tube, a timer, a calendar and two seconds daily of green electric light: the natural occurrence is artificially reproduced with the help of banal, disconcertingly rational objects. And yet the emotion persists: by putting the viewer in a waiting situation, the work restores all the event's precious magic. According to the time of year and the sitting of the exhibition the piece generates an insoluble frustration for the visitor unable to be on the spot at just the right moment. In this sense the Le Rayon vert's poetic flaring echoes Tacita Dean's film The Green Ray (2001) and, even more so, Alighiero e Boetti's Lampada annuale (1966): an ordinary box containing a light bulb which lights up randomly once a year. This temporal aspect is central to the Richer oeuvre: here the event, although regulated, cyclical and implacable, shifts every evening with the change in the time of sunset, signalling the full extent of the inexorable.
Marie Cantos
Short text published in Evariste Richer / Slow Snow, co-edited by La Galerie, Centre d'art contemporain de Noisy-le-Sec, 49 Nord 6 Est – Frac Lorraine, schleicher+lange gallery and les Editions B42 with the support of Centre national des arts plastiques, Ministère de la culture et de la communication (aide au premier catalogue).